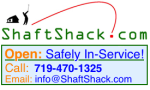 Long Description
ShaftShack loves golf, and you probably do too. Their mission is to give their customers the opportunity to experience the industry's finest equipment, first-hand!
It's one thing to see guys on tour crushing 300+ yard drives with these ultra-premium shafts on TV, read about them online, or even try them on a launch-monitor indoors with someone watching over your shoulder. But it's a totally different thing to be able to experience these shafts out in the real world--the only place where you're truly going to determine if a piece of golf equipment works for you!
They believe in try before you buy. You wouldn't let a car salesman tell you what kind of car you should buy, or sell you a car you haven't already test-driven on the road. So why would you let someone tell you what golf shaft to buy? You know what feels right when you hit it.
Send Message to listing owner
Please
log in
to be able to send messages to the listing owner.